Balnakeil
Balnakeil, Bailenacille, Balnakill; various connotations all signify with the church, from the Gaelic `Baile na cille` Village or Place of the Church, settlement of the church or church town, ground of the church.
​
Balnakeil first appearance in the documentary record is between 1223 and 1245, when Gilbert, Bishop of Caithness, assigned it the task of supplying light and incense for the cathedral church at Dornoch (Carter 1886, 25).
​
The Bishop of Caithness had his summer residence at Balnakeil through the Medieval period and also is thought to have owned Castle Varrich on the Kyle of Tongue (Bangor-Jones 2000, 37), said to have been used as a stopover while he was in transit to Balnakeil. He used the limestone-based grasslands surrounding Durness as summer grazing for his flocks. A description of the Reay estate by a valuator, dated 1797, stated that
"Durness is a dry pretty spot; the soil sandy, well peopled for its extent. It lies upon a bed of limestone which is here found in the greatest abundance. It is considered the best grass and pasture ground in the north of Scotland , and it was of old the bishop of Caithness shieling or pasture farm" (quoted in MacKay 1906, 36).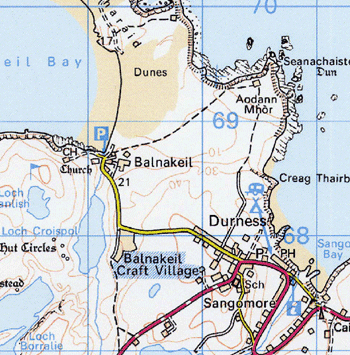 The bishops house is presumably the Castle of Durinas referred to by Sir Robert Gordon in 1630 as having stood on the site. It was allegedly demolished in 1725 for the construction of Balnakeil House, although the existing structure may have Medieval elements. At that time, the presence of a massive wall, demolished for the new building, was noted; it was thought to be the remains of an old monastery (Macfarlane 1906). The church appears to have retained ownership of a significant proportion of Durness parish until the Reformation. After the Reformation, church lands in Durness passed to the earls of Sutherland, and the Mackays were confirmed as their feudal vassals (Bangor-Jones 2000, 37)